Are you a beginner knitter looking for your first wearable project? Maybe an advanced knitter looking for something mindless and easy for some summer knitting? Either way, look no further than this easy knit crop top pattern!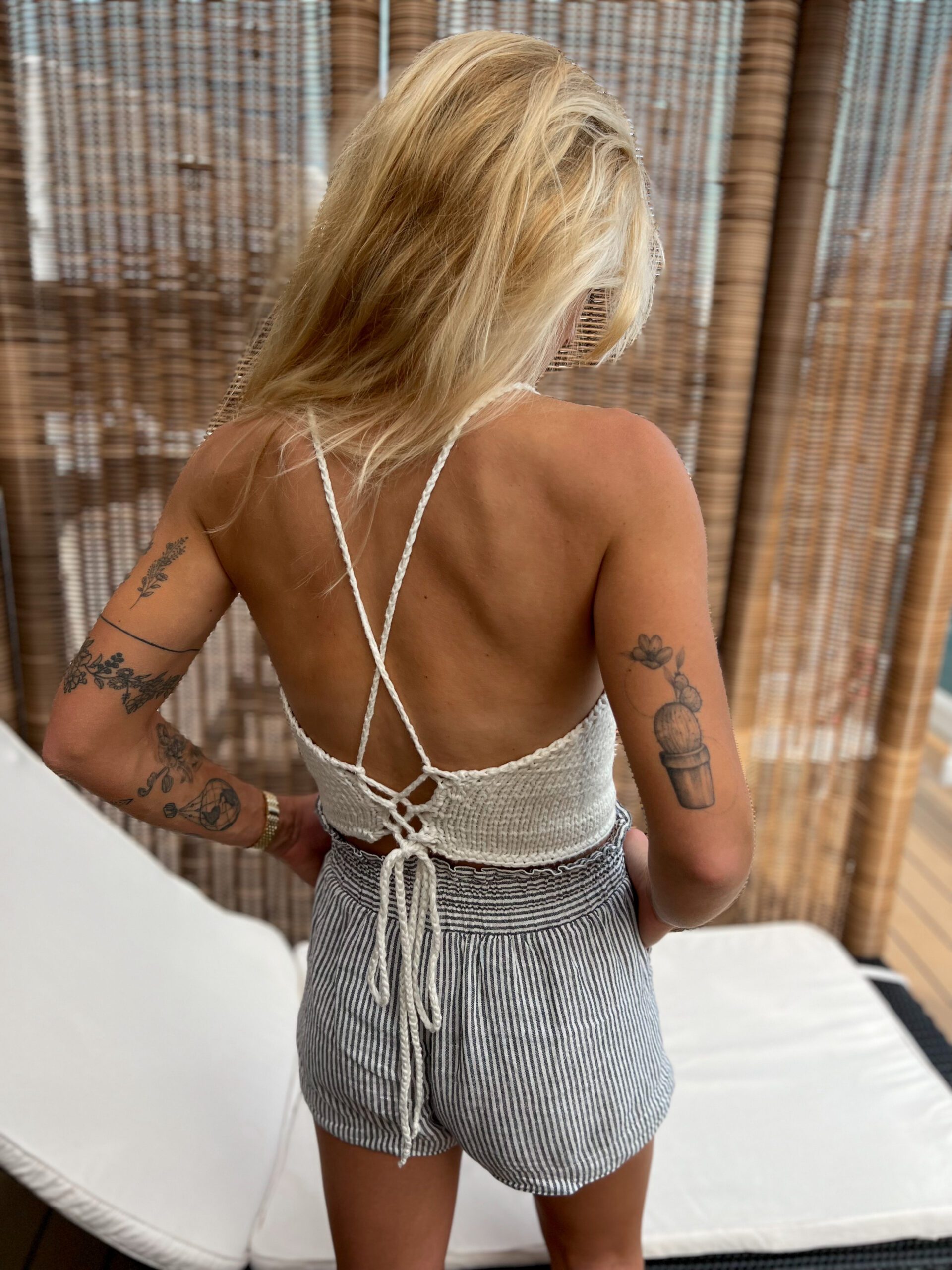 Crop tops have made a major comeback in recent years as a trendy and versatile piece of clothing that can be worn in various ways, from casual summer cookouts to dressed up party looks.
Knitting your own crop top allows you to customize it to your perfect size, style, and color, making it a truly unique addition to your wardrobe. 
In this post I'll guide you through the process of this easy crop top knitting pattern, step by step.
You can also purchase the ad-free downloadable PDF file of this crop top knitting pattern in my Etsy shop!
This easy knit crop top pattern was worked up in just a few days.
When knitting summery projects, it's important to choose the right kind of yarn. You don't want to wear a woolly halter top!
Cotton yarns are my personal favorite for summer knitting/crochet. Cotton is breathable and lightweight.
Crop Top Knitting Pattern
This adorable crop top is worked in one piece from top to bottom, knit in the flat. It is finished off with a line of single crochet at the bottom. The back loops and straps are also worked in very simple single crochet and chain stitches.
To achieve a dense knit, the pattern is worked using two skeins at the same time.
NOTE: If you don't want to use crochet to finish off the top, you'll need to knit a few rows of ribbing or seed stitch after casting on and before beginning the pattern, otherwise the work will not lay flat. You can make the straps by braiding the yarn instead of crochet chains. 
2 skeins of worsted weight yarn (I used Creme Cotton by Loops & Threads in the color light gray, which is more of an off-white)
US size 8 (5mm) knitting needles
US size H-8 (5mm) crochet hook (this is for finishing off the bottom and working the straps)
Stitch markers
Tapestry needle
Scissors
If you don't have all the above supplies, I recommend this bulk pack of knitting supplies. You can't beat the price and it includes every tool you need to knit, minus the yarn!
18 stitches and 24 rows = 4 inches (10cm) in stockinette stitch.
St = stitch
RS = right side
WS = wrong side
K2tog = knit two together
Sc = single crochet
This pattern is written in the format of XS (S, M, L, XL). 
Cast on 80 (88, 96, 104, 112) stitches, using two strands from two skeins of yarn.
Row 1 (RS): Knit entire row.
Row 2 (WS): Purl entire row.
Repeat rows 1&2 until work is 4 (4, 4.5, 5, 6) inches tall, completing your last row on the wrong side of the fabric.
Row 3 (RS): Knit two stitches together (k2tog), knit across, knit the last two stitches together. 
Row 4 (WS): Purl entire row. 
Repeat rows 3&4 until crop top is desired length, approximately 12 (12.5, 13, 13.5, 14) inches.
Bind off.
With the WS facing you, fold in the two sides. 
Starting on one side, where the first loop will go, insert your crochet hook.
Work the loops by chaining 4, skip over a couple of stitches, sc 4 (4, 5, 6, 7), chain 4 for the second loop, skip over a couple of stitches, sc 4 (4, 5, 6, 7), chain 4, ending at the bottom.
Sc along the bottom of your work, and repeat the steps above to chain the loops up the other side.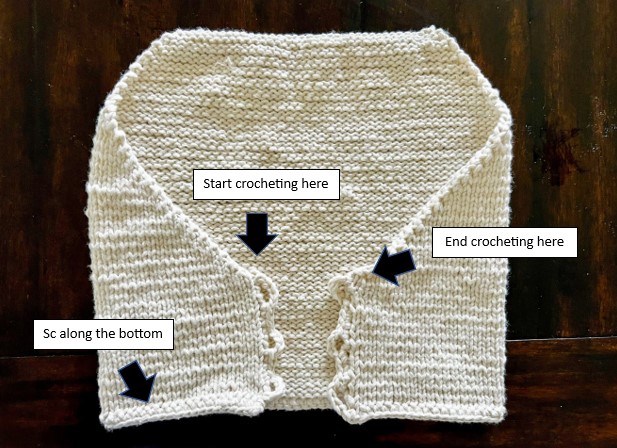 Insert your crochet hook on the top left corner of your work. Work crochet chains until the straps are about 45 (46, 48, 50, 52) inches long. 
Repeat on the top right corner.
Feed the straps through the loops in a criss-cross pattern.
NOTE: If you opted not to crochet along the sides/bottom of the top, you will need to feed the straps through the knitting itself. 
Once you're finished, rinse and block your knit crop top so the stitches even out. You can do this easily by soaking it in warm water for 10 minutes, and then lay it out completely flat to dry. Flatten any bumps in your garment and straighten it so it dries in the right shape.
If you want more of a halter-style crop top, you can tie the top straps up at the neck, and use a second strap to tie up the back!
How To Style This Knit Crop Top Pattern
Now that your crop top is complete, it's time to style it and show off your knitting skills! This knit top can be styled in many different ways, depending on the occasion, but here are some ideas to get you started:
High-waisted bottoms: Pair your crop top with high-waisted jeans, shorts, or a skirt for a chic and retro look. This combo is perfect for casual outings or brunch dates.
Layering: If you're not comfortable showing as much skin, layer your crop top under a denim jacket or cardigan.
Maxi skirt: For a bohemian-inspired outfit, pair your crop top with a flowy maxi skirt and sandals. This look is perfect for summer festivals or beach vacations.
One of the joys of knitting is the ability to add your own personal touches to any pattern! Consider adding lace panels, cables, or colorwork to your crop top to add texture and visual interest. You can also experiment with different stitch patterns to create a one-of-a-kind design.
I wanted to put out a basic pattern so beginner knitters can get started making their own apparel without super complicated knitting instructions. This crop top knitting pattern is easy-peasy, but feel free to customize and make it your own!
Knitting your own crop top is a fun and rewarding project that allows you to quickly create a unique and stylish piece of clothing to add to your wardrobe. Get creative and add your own embellishments! I'm planning on making another one of these with fringe tassels on the bottom.
I hope you enjoyed this pattern! Let me know if you tried it 🙂
Happy knitting!
If you enjoyed this post, you may also like...
Crop Top Sewing Pattern: this is the exact same style as the knit pattern above, but achieved with sewing instead of knitting! Check it out if you also like to sew and want to fill your wardrobe with adorable criss-crossy crop tops 🙂